Locksmith Brooklyn New York
Mobile Locksmith Service Brooklyn
Jacob's Iron Works offer quick and efficient locksmith service in Brooklyn and in New York. Whether it is a residential steel security door that got stuck, basement cellar door, rolling gate repairs in Brooklyn, shop  front gate or a broken lock for a security door, we can help you get the door open, and repair it in a way that going to prevent the problem from repeating itself. Our skilled team of locksmith technicians will come to your location at any time of the day or night, and will help you open the door or the gate, supplying you with new keys or a new lock. There is no need to wonder whether you are going to have to keep the door open the whole night, or to wonder how long before someone will come and fix the problem. Since we specialize in different types of gates and doors in Brooklyn, we can fix any broken gate or steel door today.
We carry the best equipment you can find in the American locksmith industry, in order to provide you with a quick and efficient locksmith service in Brooklyn. Whether you need to repair or to replace a broken key, or to install new lock for your iron gate, Jacob's Iron Works can help. Ask each one of our customers, and they will all tell you one thing: you can count on Jacob's Iron Works to perform the job on time and in the best possible way. Being #1 is something we always aim for, since we believe that when we provide a professional service, we are adding another customer to a long list of satisfied clients who can tell you that choosing Jacob's Iron Works from Brooklyn is always the best decision.
We know that there is no good timing for a lock to get stuck, for an Iron Gate to refuse to open, a gate that refuse to close, or a key to break. Due to that, we proudly offer emergency locksmith service in Brooklyn New York, so you know that no matter what time you are going to need our help, one of our skilled experts will come to assist you. We service different doors and gates in Brooklyn: From broken roll down gate, to shop front steel door repairs, we can help.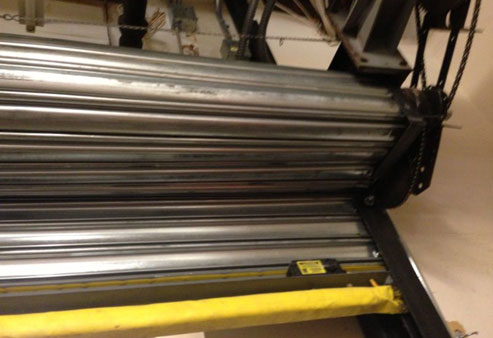 Iron Gate Locksmith Brooklyn
If your rolling gate got stuck, refuse to open, or if you are locked outside the shop, and need an expert who fix rolling gate in Brooklyn, that can repair broken or stuck gates, you just found it. Jacob's Iron Works can repair, install, service and maintain any iron gate in Brooklyn. If you are locked outside your shop, or if you can't get the roll up gate to open, or if your shop front door is not opening or closing, we can help. With our emergency gate repairs in NYC, we can help you today. Our gates technicians specialize in all types of iron gates repairs such as rolling gates, roll down gates, roll up doors, steel gates and many other types of gates. We also supply and install security doors, and we install locks for different steel doors and gates in Brooklyn.
What really important to know in case your gate or your door is stuck and you need the service of a locksmith, is that trying to use force to make the rolling gate close, trying to make the door work, trying to force the gate to open, or any kind of unprofessional method, can end with serious injuries. Usually the roll up gates in New York work fine for years, but if the gate is stuck and you need an expert who fix roll up doors in NYC, you can contact Jacob's Iron Works for same day rolling gates repairs in New York.
Roll Door Locksmith
If your roll door is stuck, if the key-switch is not opening the gate, if the gate operator can't lift the gate, or if the door is off tracks, the best thing for you to do will be to stop trying to open the roll door or to close it, and to call a local roll down gate tech in Brooklyn to come as soon as possible and fix the gate for you.
You need to understand that when a locksmith, or a roll gate specialist come and open your stuck roll gate, it may look simple to you. And you might think that if you just knew what need to be done, you could do it yourself. But here is the thing: If you only knew what to do! We would like to share with you a tale about a shop owner in Brooklyn who called us after he realized he couldn't open the roll down gate by himself, and that he need a gate expert of a rolling gate locksmith in Brooklyn NY to come and open the gate for him.
What the shop owner was trying to do was to force the roll gate to close. He and few of his neighbors tried to close the gate by forcing it to close. They tried many solutions, none of them could help: They tries hanging from the bottom bar, repeatedly press the closing button, shacking the gate and other ridiculous attempts. At the end, not only that the roll down gate did not close, but they also broke the bottom bar in a way that they needed a new bottom bar and few new slats. After they figured they can't get the gate to close unless they will get help from a rolling gate expert in Brooklyn, they called Jacob's Iron Works. When the gate expert arrived, he discovered that the only problem was a wire that got disconnected inside the key switch (Something that any gate technician or a locksmith should be able to solve in matter of minutes). But it was too late for them, they need to replace the bottom bar. So instead of a repair that could cost them 29$, they ended up paying 529$! The conclusion: Let the professionals do what they are good at, and let a locksmith open a stuck or broken lock or door for you.
With emergency steel gates and doors service in Brooklyn, there is no gate, door or lock we won't open, and we will do it on the spot. We carry with us all the parts that a gate technician or a locksmith in NYC need, in order to complete the repair on the spot.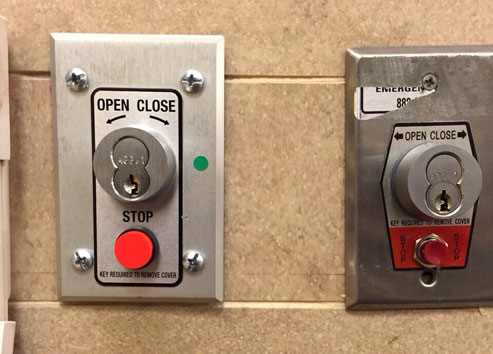 24-7 Emergency Locksmith Service Brooklyn
We learned that many times it seem like the lock picked the worst timing to get stuck (Open or close position). Jacob's Iron Works understand it, and to help you get your lock or your gate opened ASAP, we are available for you 24/7. With our emergency locksmith service in NYC, we will get your locked gate opened again today. We know that if you can't open your shop at night, or if you can't enter your home since the door lock is broken, you are going to need someone that will get to you ASAP. We are here to help you. We can fix broken iron gate in Brooklyn today. You may need welding service in Brooklyn, or a locksmith to help you open a lock, Jacob's Iron works are ready for any task.
Industrial Locksmith Service Brooklyn NY
Jacob's Iron Works is not limited to only residential locksmith services in Brooklyn. We also offer industrial locksmith service in New York including lock replacement, high quality security locks, roll up gates repairs, security doors installations, lock replacement, industrial access control system, industrial concealed door closers and much more. If you need to use the services of an industrial locksmith, we can help, just get in touch with us and we will send one of our mobile locksmith techs to your place.
We have the advantage of being able to deal with any broken gate or steel door in Brooklyn New York. When you are a professional technician, no task is too complicated for you, it can be a broken Iron gate in Bay Ridge, or a broken storefront gate in Williamsburg New York, and expert should be able to deal with all of them.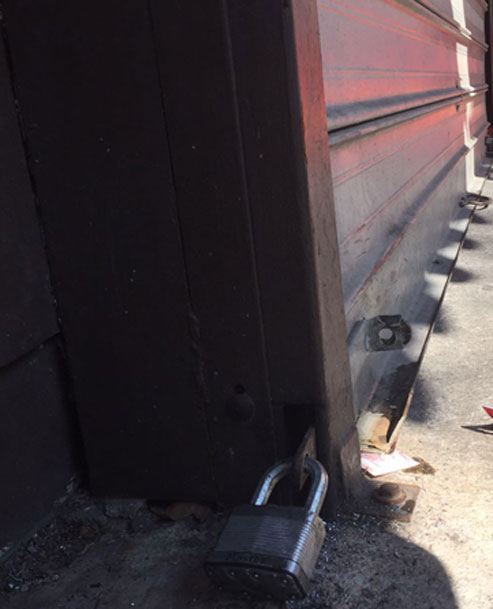 Residential Locksmith Brooklyn NY
Did you got locked outside your home? Need to replace the key? We are the solution to all your residential locksmith services in Brooklyn: we do lock rekeys, master rekeys swap locks, high security locks, door closers, security doors for residential doors and more. All you have to do is to get in touch with us, and leave all you locksmith needs in the past. After many years of servicing garage doors, rolling gates, shop front doors steel security doors service in Brooklyn, we are proud to say that there was never a lock problem Jacob's Iron Works couldn't solve, and there was never a locksmith service we couldn't complete. Fixing and shop front gate is what we do, and if our job require from us to provide locksmith service, we will be there to perform the job.
Jacob's Iron work provide iron works services in Brooklyn and in New York. We repair iron fences, gates, doors and perform all kinds of Iron works in New York. We are located in Brooklyn, and we are ready for any kind of iron work in NYC. Our skilled technicians and welders can deal with any task, residential or commercial, simple or complicated. No need to worry you might wait for many days for the repairman to show up. We offer same day service in Brooklyn New York whether it is a locksmith service or fixing broken steel gate.
Locksmith in Brooklyn
Call: 347-353-8874