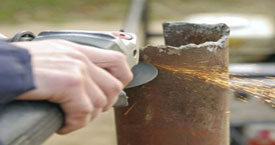 Gate Repair Brooklyn
Trying to open or close a gate IN Brooklyn, just to find that it doesn't respond, stuck or out of track is never a fun experience. But at the same time, in most cases it doesn't mean that it is time to replace the gate with a new one, it only tell you that you probably neglected the need of maintenance and tune up, and that it is time to call Jacobs Iron Works for same day welding services in Brooklyn New York.
But even with the right maintenance and high quality parts, there are many reasons which can lead to a broken gate in NYC: from a gate that was hit by a car, through someone who tried to open the gate but forgot to remove the lock, to a gate which is old, and was over used. Luckily for you, we specialize in all kinds of iron works and welding services in Brooklyn New York including gate repairs. If you need someone to fix your gate and weld it back to place, you just need to call us, and find a welder in Brooklyn New York.
No matter what is the reason that lead to a broken or damaged gate, whether it is a rolling gate in Brooklyn or a sliding gate in Queens New York, there is one thing you should now: a broken gate should never be used, and should be repaired by a trained technician who has the experience to deal with different iron gates in New York like commercial steel gate and other.
Be careful!!! Trying to use a damaged, stuck, out of track or any other reason which lead for a gate that need to be repaired is dangerous, and can end with serious injuries. If you are experiencing hard time to operate a broken gate, contact a gate repair company in Brooklyn that offer welding and gate repairs services so they can send someone to come to inspect the gate, repair or replace the broken parts, and make the gate safe to use again.
Gate opener repair Brooklyn
If you own an electric gate in Brooklyn which is hard to operate, open, close, or any other problem, don't be sure that the reason is an opener problem. The gate is built from many moving parts that should all work together in Harmony, in order to get a perfectly working gate. If one of the parts is broken, and it seem like the opener can't lift the gate, or if it is hard for the gate to move, it may be due to a problem with the operator, but it can also be due to a broken spring, lack of maintenance, or many other reasons. If you are experiencing a gate problem in Brooklyn, but you are not sure what the cause is, contact us, and we will send a technician to inspect the gate. We carry parts and welding machines, and we can fix most steel gates in Brooklyn on the spot. Whether it is a welding job in Brooklyn, or a spring repair, we can fix it today.
Gate maintenance NYC
Every gate in Brooklyn New York need to be maintained every 6 months, and when it comes to gate in Brooklyn or in NYC, lack of maintenance can be crucial for the gate. A maintenance for a gate is not a complicated project, and comparing to the benefits, it is definitely worth the investment. If you located in Brooklyn, and it has been a while since someone maintain your gate, or if you don't remember when was the last time your gate has been maintain, contact us, and we will provide you with a professional gate maintenance.
If you are not sure if you need someone who fix gates in Brooklyn NY, a welder in New York or simple gate maintenance, there is no need to worry. We offer all kinds of iron works repairs in Brooklyn including Welding services for all types of iron gates in New York.
For chain link fence welding Call: 347-353-8874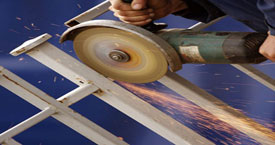 Fence Repair Brooklyn
When it comes to fence repair in Brooklyn, the biggest question is always the same: "should I repair the existing fence, or should I replace it and install a new fence"?
To answer that, there are few parameters which need to be considered in order to provide you with the best solution: "what kind of fence"? "When was the fence installed"? "What is the purpose of the fence"? "What is your budget"? "What is the condition of the fence"? And more. Sometime welding job and pain can make many fences in Brooklyn look like new again, and sometime the time and the cost just doesn't worth it, and we will recommend you to replace the fence instead of using the services of a welder in Brooklyn.
But even after you answered all those questions, we cannot give an absolute answer, whether to repair and weld your iron fence in Brooklyn, or to replace it. Since some people will insist on preserving the existing fence, no matter what the cost. But in general, we can say that replacing the existing fence with a high quality fence, is something that supposed to last for many years, and when being installed by a professional installer who specialize in Iron works in Brooklyn, it will stay there for many years.
Welding in Brooklyn
We offer emergency welding services in Brooklyn New York. Whether you need a gate repair, fence repair, or steel door repair, we are the answer for all welding needs in Brooklyn New York.
Wrought Iron Fence Welding
Although they can be more expensive than the other steel fences like the chain link fences in Brooklyn, a wrought iron fence is strong, reliable, and can be manufacture to fit your needs in terms of color and design. If you live in Brooklyn New York, or if your business is located in Brooklyn, you can look around, and see hundreds of wrought iron fences, rails and gates, which was designed for the place where they are installed. We offer endless designs and colors of fences in Brooklyn, to fit your needs, and to fulfil the purpose of the fence (according to city limitations).
We offer welding services for all kinds of wrought iron fences in Brooklyn, and we can make old fences look like new when we perform our full package of welding, cleaning and painting the fence. There are many iron fences in Brooklyn New York, and we can weld and renew all of them.
Chain Link Fence
The chain link fence in Brooklyn is the fence that look like a metal net, mostly come in galvanized color, and considered to be easy to install and to remove. If you need a chain link fence installation in Brooklyn, we can help you. We have installed hundreds of chain link fences in Brooklyn and chain link gates, and always left the best impression, adding more and more customers to our list of satisfied customers, who will tell you that Jacob's Iron Works is the best choice when it comes to chain link installation in Brooklyn.
For gate welding in Brooklyn Call: 347-353-8874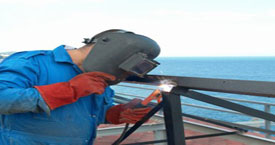 Welding Service Brooklyn
Need a welding service in Brooklyn? Not sure what need to be done? Want someone who knows how to work with iron? We got what you need. Iron works is what we do, and welding is what we love.
We offer same day welding service in Brooklyn NY. No project is too small or too big for us, and we are always ready to provide you with our welding service. From broken door repair, to fence installation, we are the answer to all your welding needs in Brooklyn New York.
Need a welder in Brooklyn ASAP? No problem, we offer emergency welding service in Brooklyn NY and the area, so you know that someone will always come to help you. We specialize in all kinds of iron works in Brooklyn, including fence and gates repairs, but not only that, we also offer welding services for commercial needs, because when you are a professional, you should be able to do everything that require welding.
The welding Service
Our knowledge and experience, which we gathered during 20 years in the iron works field, allow us to offer you the best solution for your welding needs in Brooklyn, and a high quality service, to ensure you will get exactly what you need. Not sure what kind of service you need? We are here for you. We offer welding services from variety of options, to help you get your problem fixed today. We carry in our service track the tools and the parts, to help us provide you with the service today. We offer professional welders in Brooklyn, who successfully performed countless iron works, and always completed the project with our famous 100% satisfaction.
Welder Brooklyn
If you need a welder in Brooklyn, you just found one. We offer high quality welding services in Brooklyn New York. When you are a pro, it doesn't matter to you if it is a broken gate, a damaged fence, or a broken door, since we perform all kinds of iron works in Brooklyn.

We love what we do. Our reputation as a reliable welding company  is built from hundreds of satisfied customers, who can tell you, that Jacob's Iron Works always deliver a high quality service, on time, and for a fair price. Since we know that if you want to be the best, you need to give the best, and that is our mission.
Our Welding service in Brooklyn:
Fence Repair. Gate repair.
Rolling gate repair Brooklyn.
Steel door repair in Brooklyn.
Window bar repair Brooklyn.
Welding services in Brooklyn.
If you need a welder in Brooklyn, contact us, and we will be there today!
For Welding in Brooklyn Call Us: 347-353-8874